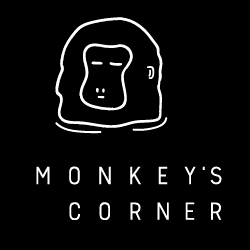 Monkey is intelligent, playful, and mischievous.
Monkey's Corner is a small bar proudly brought to you by the Poernomo bros. Housed in a corner heritage building on Kensington Street, Chippendale, it is an intimate 20-seater space offering inventive cocktails which are creatively paired with cheeky savory bites. Not to forget an extensive collection of expertly curated boutique rum, whiskey, gin, and Japanese selections.
CONTACT
Monkey's Corner
40 Kensington St
Chippendale NSW 2008
HOURS
TUESDAY to FRIDAY
5:00pm – 11:00pm
SATURDAY
12:00pm – 11:00pm
SUNDAY
12:00pm – 10:00pm
RESERVATIONS
Reserved tables will only be held for 15 minutes, after which the table will be made available to other customers.
Due to the limited seats available, Monkey's Corner does not take reservations for Saturday and Sunday.