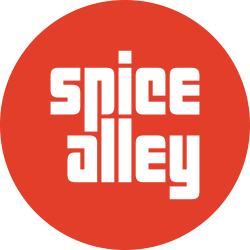 Spice Alley's dedicated intimate functions space.
Spice House is the district's newest function space. Nestled amidst Chippendale's historic row of terraces, this upstairs space offers two cosy rooms and a balcony, each bursting with personality and adorned with Asian street art. Follow the fiery red dragon up the stairs to experience the spicy flavour of Kensington Street. These rooms set the mood for intimate dinner and drinks shared between close friends.
Don't be fooled by this terrace's unassuming exterior. Invite your friends to share in the seductive hum that spills from the graffitied walls of this gem in the rough. Let there be nothing formal about this dining experience.
In partnership with our Spice Alley vendors, charges per head start at $30. Private waitstaff can be arranged for an additional fee. Entertainment can also be arranged to suit the occasion.
CONTACT
Spice Alley
18-20 Kensington Street
Chippendale NSW 2008
HOURS
We will be open to dine in from
Friday 15th May, limited seating.
Open Daily 11am to late.
We have contactless dining & social distancing measures in place to ensure you have the best experience with us!
HOW IT WORKS
Spice House offers a self-serve option with a pre-loaded card. Additionally, Private Tours of Spice Alley are available for groups of 10 of more.